Steak Chimichuri Taco Wins Top State Fair Food Award
By Chris Dettro
Staff Writer - The State Journal Registar
A new Illinois State Fair food vendor on Thursday won the first-ever Golden Abe Award as the best overall food at the fair.
The Steak Chimichuri Taco from Sergio's Cantina at the Mexican booth in Ethnic Village took home the golden bobblehead statue in the Fantastic Fair Foods contest sponsored by The State Journal-Register and the state fair.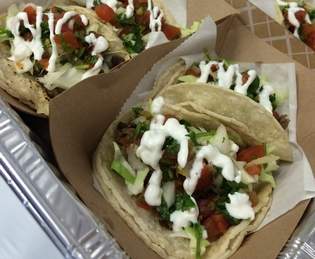 The same taco, which bested 23 other entries, also was voted best tasting by the five judges, all local restaurateurs.
Bacon Wrapped Pig Wings, a pork shank wrapped in bacon, rolled in brown sugar and smoked with cherrywood for more than two hours, then grilled to order, won the award for most creative.
Caplis Enterprises, on Illinois Avenue inside The Shed, is serving the most creative dish.
The winning taco is made with Chimichuri seasoned steak, topped with cabbage, sour cream and pico de gallo.
Sergio De Los Santos, who along with his wife, Lindsey, operates a brick-and-mortar Sergio's Cantina in the Chicago suburb of Geneva, said they started serving the Steak Chimichuri Taco about a year ago.
"We put a lot of time and research into it," Lindsey De Los Santos said.
Sergio said they tried the new taco out on friends and cousins before putting it on the cantina menu.
The couple is at the state fair for the first time this year, but they have done about 14 smaller festivals this summer.
Sergio said the restaurant is doing well, but the summer afforded them the opportunity to get away and participate in some festivals outside the Geneva area.
"I love to be around lots of people," he said.
The Steak Chimichuri Taco will be featured on an upcoming Food Network series, "Carnival Eats," he said.
Pick your favorite
State fair manager Amy Bliefnick said the Fantastic Fair Foods Contest is "to encourage our vendors to come up with something more creative." There are more than 300 food items available at 150 different concessionaires throughout the fairgrounds.
She said she went to the Texas State Fair, which has a similar contest, for the first time last year and tried some different foods.
"It's a fun thing to eat something you've never eaten before," Bliefnick said, though she admitted she wasn't a big fan of the deep-fried butter offered in Texas.
"A gooey mess," she said.
"Food is a big part of the fair, and I think our vendors have responded," Bliefnick said. "The number of entries is great for a first-time contest."
Fairgoers also will get their chance to vote for their favorite food through noon Monday.
Vendors with Fantastic Fair Food entries will have banners at their stands indicating their contest food, as well as a QR code that will allow patrons to post "selfie" photos of themselves eating their favorite food to sjrcontest.com/selfie.
Kane County Chronicle
Sergio's Cantina Wins 4 Prizes at State Fair
By BRENDA SCHORY - bschory@shawmedia.com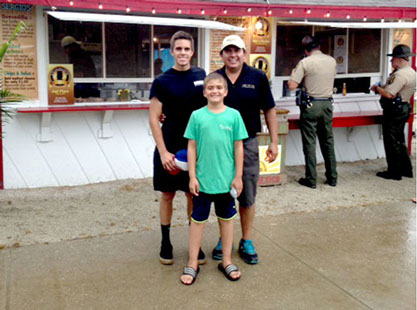 GENEVA – The steak chimichurri taco created by Sergio's Cantina won two first-place and two second-place prizes at the Illinois State Fair in Springfield, owners Sergio and Lindsey De Los Santos said.
"We are a Mexican restaurant, and we have my husband's family recipes and traditional Mexican food on our menus," Lindsey De Los Santos said. "About a year ago, we added a bunch of different tacos to be more contemporary. Small street tacos are very popular right now, [and] the steak chimichurri is one of them. A 'street' taco means they are small enough to walk and eat them."
Sergio's is at 30 W. State St., Geneva.
Chimichurri is a traditional Argentinian sauce, a blend of olive
oil, garlic, parsley, cumin, crushed red pepper, salt and apple
cider Sergio De Los Santos and sons Christian De Los Santos, 18, and Dylan De Los Santos, 9, are pictured at the Illinois State Fair in Sprinfield. De Los Santos and his wife, Lindsey, own Sergio's Cantina in Geneva. His steak chimichurri taco won two first-place awards, the Golden Abe Award as the best overall food and the Best Tasting food, as well as second place for Creative Walking Taco and the People's Choice.vinegar – a lot of flavor but not spicy, Sergio De Los
Santos said.
"We added a little kick [with] Mexican cumin," he said.
"We tweaked it," Lindsey De Los Santos said.
The taco is finished off with shredded cabbage, made from stratch pico de gallo and sour cream on a small corn tortilla. They've been serving it at their restaurant for the past year, the couple said.
It was the couple's first time ever at the state fair and the taco won first place for Best Tasting Food and Best Overall Food against 23 other contestants. It won second place for Best Walking Taco and the People's Choice.
"The cool thing is, this is the first time it ever happened," Sergio De Los Santos said. "They never had an overall winner; it's a new category."
"We could just not believe it," his wife said. "There were non-stop lines at our booth at the fair."
The take-home prize for their first place wins was two bobblehead trophies of Abraham Lincoln, called the Golden Abe Award.
De Los Santos said he plans to participate with the chimichurri steak taco in next month's Flavor Fare at the Geneva Chamber's Festival of the Vine, which is Sept. 5 to 7.
"It is going to be our first year at Festival of the Vine," De Los Santos said. "I'm going to bring my bobbleheads."
De Los Santos also will be featured on the Food Network's new series "Carnival Eats." He was filmed making the steak chimichurri taco at the Oswego PrairieFest in June, his wife said.